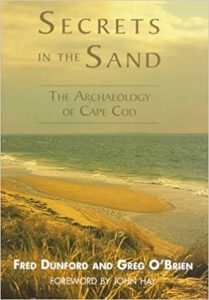 "10,000 Years by the Rising Sea: Wampanoag Homelands on Cape Cod" is the topic of Woods Hole Historical Museum's conversation by anthropologist and archaeologist Fred Dunford
October 13 at 7 PM, via Zoom.
Dr. Dunford will focus on the manner in which post-glacial sea level rise defined prehistoric ways of life on the Cape.
In his 1997 book, "Secrets in the Sand: The Archaeology of Cape Cod," Dr. Dunford wrote "When native peoples arrived at Cape Cod about 10,000 years ago, moving northward from the south, they found an environment entirely different from that of today. The land stretched as far south as the present day islands of Nantucket and Martha's Vineyard, a gently rolling landscape of open pine forests and grasslands that had succeeded the early post-glacial forests and tundra. The area that is now Nantucket Sound was a vast expanse laced with rivers and bogs, soon to be drowned by the rapidly rising Atlantic.
A graduate of Harvard University, Dr. Dunford earned his doctorate in anthropology at University of Massachusetts Amherst. He is currently at the Plimoth Patuxet Museums in Plymouth. He was the resident archaeologist at the Museum of Natural History in Brewster.
Watch the talk here: