Campus
Our museum campus is on Woods Hole Road, on the right just before the road splits, leading into the village on the right and to the Martha's Vineyard ferry terminal on the left. We are next to Woods Hole Public Library, of which we are a division.
Bradley House, Museum Galleries and Museum Shop
Built around 1804, Bradley House was bought by Captain William H. Bradley at auction in 1821 for $339. It was home to the Bradley family for many years. Joseph Story Fay bought it from the widowed Mrs. Betsey Bradley in 1871 with the proviso that she could live there for "the balance of her natural life." In 1902 it was moved by the Fay family to its present location, a few hundred feet west along Woods Hole Road and turned 90 degrees. It was rented to many tenants over the years. In 1948, it was donated to the Woods Hole Library, still rented out and also used as a doctor's office. It was restored and made into a museum in 1976.
Bradley House contains three galleries. Two galleries show exhibits that generally change each year. The third gallery contains a permanent scale model of Woods Hole, circa 1895.
The Archives (Woods Hole Historical Collection) and the offices of the museum are also in Bradley House.
The Woods Hole Historical Museum Shop is also located in Bradley House. The shop offers a wide array of interesting and unique gifts for all ages. Browse our online gift shop here.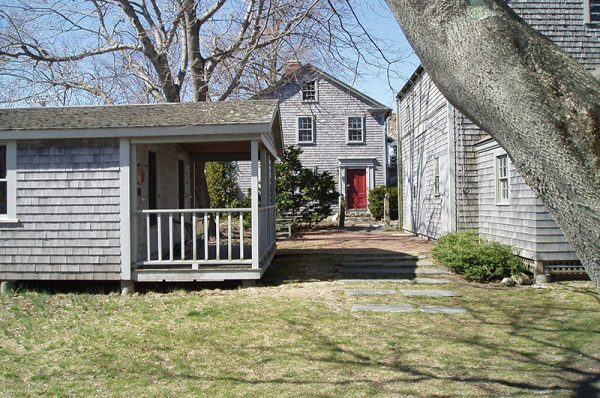 The Swift Barn (now the Small Boat Exhibit)
The Swift Barn was built in 1877 by E. E. Swift for $80.71, labor and materials. It now houses the Small Boat Exhibit. Displays include an 1890s Woods Hole Spritsail boat (SPY); a Herreshoff 12 1/2, a Cape Cod Knockabout, a Mirror dinghy, a 1922 Old Town canoe, a Woods Hole Chamberlain dory and many boat models and maritime artifacts.
Be sure to go around the far end of the Swift Barn to see the children's inter-active exhibit, where kids can climb aboard the Cape Cod Knockabout Penguin and sail the Sound in their imaginations. People can try their hand at tying knots: the bowline and the clove hitch, and feel the Power of Pulleys.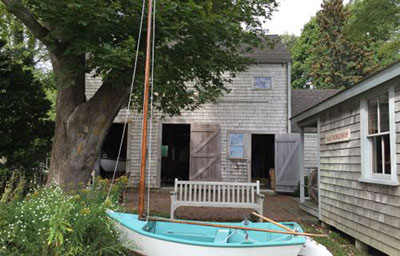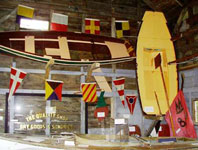 This shop, circa 1892, recreates the domain of a 19th century Renaissance man who summered in Quissett. The workshop had been adjacent to his Quissett house "The Barnacle", now demolished. Leroy Milton Yale, Jr. was a pediatrician by profession. He was an accomplished fly fisherman who made his own rods and tied his own flies. He wrote articles for Scribners Magazine on sporting subjects. He was a photographer and a well-known artist who founded the New York Etching Society. He was an expert woodworker. The shop contains a display of artifacts, many original, as well as some acquired as representative of the era, including books, maps, nineteenth century tools, equipment, etchings and artifacts appropriate to Dr. Yale's interests.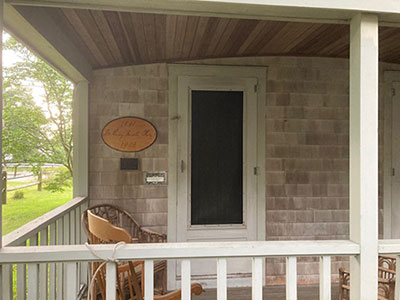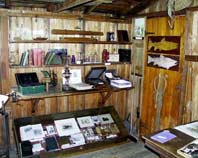 The Boat Restoration Program
Located behind the Small Boat Museum are the workshops that house the boat restoration program. Every Saturday morning, students of all ages convene to learn the art and skills of working on wooden boats in our boat restoration program. A complete restoration of a Beetle cat, literally from stem to stern, has been completed. An Old Town Canoe has also been restored. In addition to boat restoration, a number of rowing and sailing dinghies have been built in the shop. Drop back and take a look. This has been an all volunteer project; the teachers and students come simply because of their devotion to wooden boats.
Other Boat Shop Projects:
Family Boat Building Workshop
WHHM Model Boat Show
WHHM Boat Shop a Hub for Boat Builders of All Ages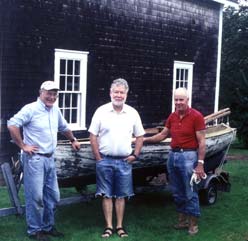 Walsh Rambler Rose Garden
This small formal garden is dedicated to the memory of Michael Walsh, a gardener from North Wales, who came to work in 1875 on the Joseph Story Fay estate in Woods Hole. It was here that Walsh hybridized many world famous Rambler roses. The garden contains several varieties of Walsh's Ramblers trained along fences. For more about Walsh and his roses, click here.