Our February 9th Conversation is:
"Meet Jacki Hartman, Falmouth's Diversity, Equity and Inclusion Officer"
February 9 at 7PM
Register Zoom here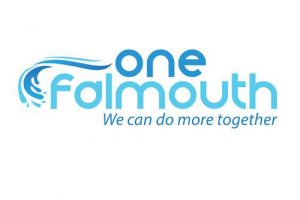 Please support your community non-profits!
We are proud to be part of OneFalmouth, a collaboration of 14 local nonprofits working toward a common goal of raising funds together so everyone can benefit. Save the date to watch our telethon on FCTV Channel 13 on February 16. Donations are welcome at any time at www.onefalmouth.org.
Our Gift Shop is always available online
Treat yourself or a friend to a gift of our new reusable water bottle, especially popular in Falmouth now that we have banned single use water bottles. It is only $7.50, with our Spritsail logo. You can have your order shipped, or pick it up "curbside" at the museum. SHOP HERE.
Email whhmdirector@gmail.com to be added to our mailing list.
Become a Member of the Museum!
Take a virtual tour of Woods Hole here.
Learn about interesting items and stories from our collection, sign up to receive the Dispatch!
Read our latest issue, here.
The Woods Hole Historical Museum is a lively small museum with changing exhibits and diverse programs appealing to people with wide interests. Founded as an adjunct to the Woods Hole Library "to establish and preserve a collection of objects and materials of cultural, historical, and artistic value," the Museum has grown to a campus of several buildings housing exhibit, workshop, and archival space, as well as becoming an active publisher of works of local and historical interest.
The Small Boat Museum
On your next visit to the museum be sure to visit the Small Boat Museum, formerly the Swift Barn, which was built in 1877 by E.W. Swift for $80.71, labor and materials. Displays include an 1890s Woods Hole Spritsail boat (SPY); a Herreshoff 12 1/2, a Cape Cod Knockabout, a Mirror dinghy, a 1922 Old Town canoe, a Woods Hole Chamberlain dory and many boat models and maritime artifacts.
Other small boats on the campus include two more Cape Cod Knockabouts and two Beetle Cat boats.
"From the Archives" Article Shares Stories from the Oral History Collection
Since 2006 the Museum's newsletter Mainsheet has included extended articles that look at interesting aspects of Woods Hole history or feature research that has been done in the Museum Archives. Articles include stories about Woods Hole's first yachtsman, the hurricane of 1938, the history of the Fishmonger restaurant, and more. You can find the series here on the website under the Museum Archives tab, or, to see a list of articles rescued "From the Archives", click here. To read some stories from the Oral History Collection, click here.