Walsh Roses
Here's more about Walsh, the Fays, and the Gardens…
If you had visited Woods Hole at the beginning of the 20th Century and had looked then for some of the institutions that now dominate the village, you might have been surprised by what you didn't find. The Fisheries and the MBL were here and they were busy places in the summer, but, back then, the Fisheries had one year round employee and the MBL three. The MBL had no permanent building. WHOI, of course, didn't exist.
Searching the village for businesses or institutions with significant impact outside the neighborhood of Woods Hole and Falmouth, you would have found only three: First, the railroad and the steamship authority that brought visitors to Woods Hole and then on to the islands and back. Second, a fish house that shipped fish caught in Cape waters to various places up and down the Coast. Third, a thriving business that shipped its surprising products all over the globe.
That business was M.H. Walsh and Co. and the products were the rambler roses that Michael Walsh bred and raised in a three-acre garden on an estate overlooking Little Harbor. From the early 1900's until the 1930's, the business prospered. It was busy enough that a Federal inspector lived nearby just to certify all the shipments that went out.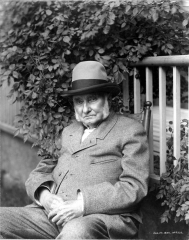 Michael Walsh had been born in Wales in 1848 and came to America in 1868. In 1875 he came to Woods Hole to begin work as the gardener for Joseph Story Fay. Fay, who had come to Woods Hole 25 years earlier, is celebrated as Woods Hole's first summer visitor. He also began the re-forestation of Falmouth.
Walsh developed the gardens on the Fay estate and began experimenting with roses. He developed his ramblers by using pollen from a double rose, probably a Hybrid Perpetual, to fertilize the flowers of Rosa wichurana. He soon began winning prizes. Joseph Fay had brought Walsh to Woods Hole, but soon Fay's daughter, Sarah Bryant Fay, who herself grew roses, became Walsh's patron. She had greenhouses built on the estate and hired a second gardener who took over day-to-day gardening chores so that Walsh could work full-time on his roses.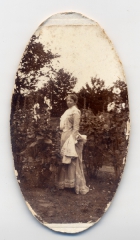 Walsh and Sarah Fay exhibited roses together and won many prizes. In 1905 Walsh won a Gold Medal from the Royal National Rose Society of Great Britain for his rose, 'Lady Gay.' In 1914 he won the Gertrude Hubbell Gold Medal from the American Rose Society for 'Excelsa.'
Each year from 1907 to 1917 Walsh published a catalog of his roses and shipped roses were all over the United States, to England, France and Germany, and to other places around the world.
Michael Walsh died in 1922 and his son took over the gardens. Sarah Fay died in 1938 and, after her death, the gardens slowly disappeared. The house that Walsh and his family lived in is still here and on Woods Hole Road next to the Historical Museum there is a stone marker and two fences covered by several varieties of Walsh's ramblers.
WHOI now owns the land where the gardens grew, but the roses are gone. In their place is a community garden shared by WHOI employees. But you can still find many varieties of Walsh ramblers growing in gardens and on walls and fences around Woods Hole. They are hardy and require little care and blossom profusely in early summer each year.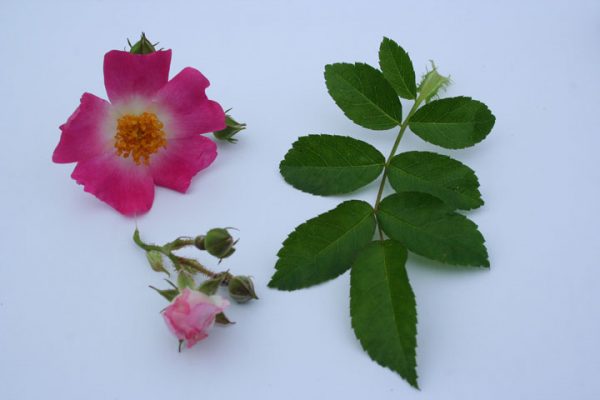 Historical Photos of Walsh and His Roses
These are photos of Michael Walsh, Joseph Fay and his daughter, Sarah Fay, and the gardens where Walsh grew his roses. There are also photos of roses from Walsh's catalogs.
Nine Identified Varieties of Walsh Roses
Below are photos of the nine varieties of Walsh rambler roses that are positively identified and that still bloom in Woods Hole every summer. All photos are by Gretchen Ward Warren.
Walsh Rambler Roses Around Woods Hole