by Susan F. Witzell
The Old Colony Railroad, originating in Boston, was extended from Monument Beach in what is now Bourne to Woods Hole during the years 1870 to 1872. The train terminal was located out on the steamship wharf itself and contained in a long wooden Victorian building with a monitor structure at the peak to allow steam and gases to vent.
In 1901 that wooden station was demolished by deliberate burning by the New York, New Haven & Hartford Railroad, which had absorbed the Old Colony in the 1890s. The fire, which lasted some days, resulted in creosote-laden smoke which spread on the prevailing winds and resulted in the destruction of rosarian Michael Walsh's entire crop of rambler roses as well as the Fay gardens where he worked. He and Sarah Bryant Fay sued the railroad and settled out of court, winning $20,000 in damages.
Following this, the railroad constructed a brick station some hundreds of feet back from the wharves and docks of Great Harbor.
Hurricanes are a stimulus for photos of harbor edges and flooding. Photos of the 1954 Hurricane in Woods Hole show a one-story concrete block building just south of Sam Cahoon's fish market.
The railroad station itself was demolished in the 1960s after the termination of train service to Woods Hole. By then the concrete-block terminal had grown to near its current size and shape.
In the last few years the Steamship Authority has built handsome new terminals in Vineyard Haven and Oak Bluffs. Plans are being worked on – with the input of the Woods Hole Community Association and the general community – to replace the concrete-block Woods Hole terminal with a new structure, placed much farther back from the Great Harbor edge. Let's hope it will be something attractive to look at and will not detract from the village around it.
Most of the above information was gleaned from photographs. There is little written history of the steamship and railroad buildings themselves, even in the Falmouth Enterprise. I finally found the date of construction for the concrete block building in The Island Steamers by Paul G. Morris and Joseph F. Morin (Nantucket Nautical Publishers, 1977).
Susan F. Witzell, Archivist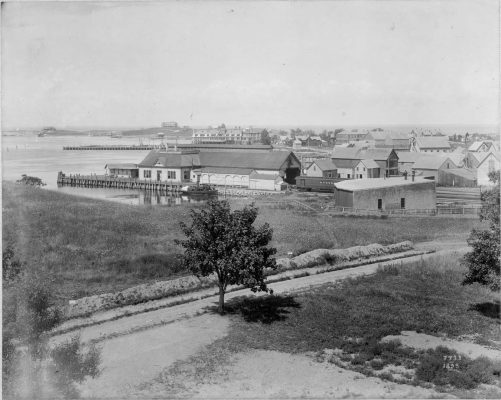 The original wooden shed railroad terminal appears in the center of the photo above. Photo by Baldwin Coolidge.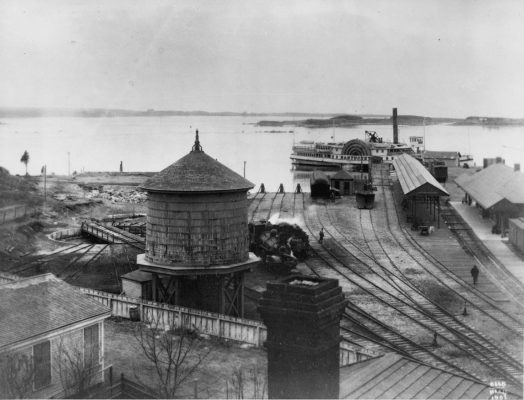 The railroad yard in 1902. The new train terminal is to the right, water tower for steam engine water supply is left. Sidewheel steamer <em>Nantucket</em> in at the end of the dock. Photo by Baldwin Coolidge.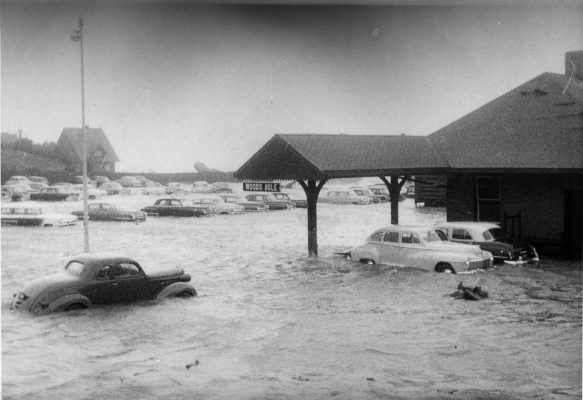 During the hurricanes of 1938, 1944 and 1954 the railroad terminal and parking area were flooded. This is during the 1954 hurricane. Photo by Col. Oliver B. Brown.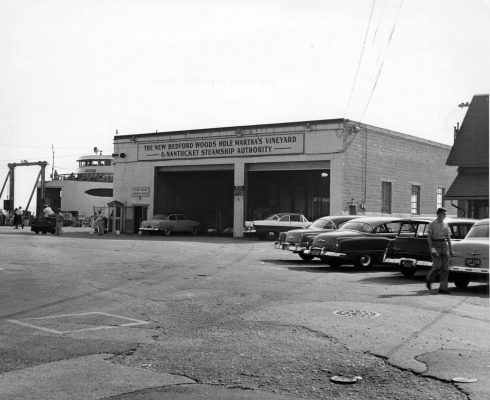 Concrete block Steamship Authority freight building, shortly after it was built in 1951.