By Susan F. Witzell, Archivist
When I published the first-ever biography of our earliest summer resident, Joseph Story Fay, in 2013 (Joseph Story Fay 1812-1897, The Life of a Modest Man), the only images I or anyone interested in local history had seen of him were taken in the 1880s or in the 1890s by Baldwin Coolidge in his very last years of life (1896- 1897). Fay looks worn, solemn, even uncomfortable and does not resemble the frequent description of him as a kind, cordial and generous man who was also known to be the life of the party. Doubtless he was not well or he was in some kind of pain at this stage of his life, being 84 or 85 years old.
Just this year, four images of a much younger Fay have been given to the archives by several descendants. Here we see — even in the stiff formality of a 19th century photographer's studio — a slight smile, a lively curiosity, an engagement that underscores the Fay who was well-known and well-loved in his family, among his friends and in society. His side-burns, popular as a style for men in the 1840s, remained part of his appearance for his entire life.
The first of these new images is a daguerreotype, the first way of making photo-portraits of subjects on a permanent medium.
Daguerreotypes, named
for their inventor Daguerre,
were immensely popular
from the early
1840s to 1860.
They were made
as a positive image on a thin copper plate covered in a mirror-like coating of silver, then sealed under glass to protect the image from deterioration. The glass-covered image was then placed in a hinged case of leather-covered wood or gutta-percha, a plastic-like material easily molded with flowers and other designs. One of the daguerreotype's distinguishing characteristics is that it appears as a positive or negative image depending on the angle of view.
The daguerreotype of Fay is tarnished, like many of these types of images on silver and is no longer in perfect shape. It may undergo restoration at the New England Document Conservation Center.
The photographic establishments of Mathew Brady and others made paper prints of people even more popular. Small sepia prints were made in multiple copies on calling-card sized card stock and widely distributed to one's friends or were for sale at the photo studios.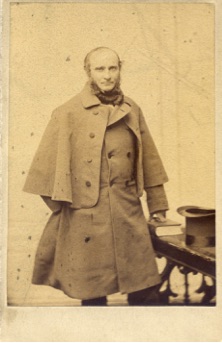 Many people began assembling photo albums, which not only contained family and friends but also famous people whose images they had bought at one of the studios. Images of Civil War generals, such as Ulysses S. Grant, or singers such as Jenny Lind ("The Swedish Nightingale"), were very popular.
Left is Joseph Story Fay photographed about 1860. By this time he had left Savannah Georgia for good during the gathering storm of the Civil War and was living in Boston and Woods Hole where he had purchased a 1700s house in 1850 for use in the summers.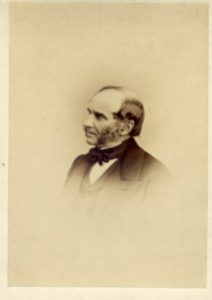 Copies of Joseph Story Fay (1812-1897), The Life of a Modest Man, may be purchased at the Museum Gift Shop or from Susan F. Witzell — susan_witzell@hotmail.com.