Quissett Oral History and the Fay Farmhouse
By Susan F. Witzell, Archivist
In the early 1970s, Molly Willett of Quissett and several friends, Isabel Haigh and Cynthia Coffin, conceived of a project that was a very important contribution to local history. Quissett's history goes back to the 1600s and some of the descendents of early Quissett settlers still lived in the area, either year -round or as summer residents. The three women spent about five years in the early 1970s recording (on cassettes) taped interviews and discussions among the local residents. Many of the residents were elderly and died soon after these recordings were made, so their timing was critical. In 1974 the first tape cassette recordings were made in Woods Hole, with "conversations" at the Woods Hole Library, a project that is still being carried on to this day by the Woods Hole Historical Museum.
Besides the interviews, equally important was the collection of information about some of the historic houses and properties in Quissett and local families' genealogies. Hand-drawn genealogy charts were made as well as all that could be remembered about the houses.
After Molly died, her recordings (92 in all), her transcriptions and manuscripts were left with her husband, Herb Willett. After Herb died, the recordings and paper material were given to a local historian to use. They were donated to the museum this summer. Computer transcriptions of the hand-written transcriptions are in process. In the future the recordings will be transferred to digital format. We are grateful to these three women for recording invaluable local history.s".
The Fay Farmhouse and The Moors
Recent research questions about "The Moors" in Falmouth (Elm Road, Moorland Road, Quonset Road, Nonquit Road and surrounding area) led this archivist to delve into the history of the 1740s Fay farmhouse in Falmouth. I have been working for several years on our extensive Fay family collection, which is still being added to by Fay descendents. I knew that the Fay Farm was used for a dairy farm and assumed that the land, like so much of other local land, had been bought from earlier owners by Joseph Story Fay who had accumulated over 600 acres of land in Falmouth.
I also knew from walking by that the house at 228 Elm Road was quite old, obvious from its style (a center-hall Colonial with five bays and a pedimented porch, like many houses around the Falmouth green). But, I knew nothing about who might have built it or owned it, unlike the historic Jonathan and Moses Hatch houses back towards Woods Hole Road.
It turned out, as I learned from the Massachusetts Historical Commission form, written by Ann Sears and provided to me by archivist Meg Costello of Falmouth Historical Society, that the house was built c. 1740 by a Falmouth member of the Butler family: Daniel (members of the Butler family also lived in Woods Hole). It had faced southwest, like so many old houses, to utilize solar heating. But it wasn't bought by land collector Joseph Story Fay.
It was bought by his son Henry Howard Fay in 1887, along with the neighboring David Butler house and 100 acres of land, where Fay created a model dairy farm, which had at various times at least 60 cows. At some point the house was turned 90 degrees to face the road. The Farm eventually comprised 120 acres.
Joseph Story Fay's heirs, Henry (referred to as "H.H.") and Sarah Bryant Fay, sold off extensive portions of their father's land holdings in Woods Hole and Falmouth during the 1920s. The dairy farm was one piece, sold in 1924 and developed into lots and an attractive area for new houses, golf course
and tennis courts. The dairy farmer, John Wray, and his cows moved to Hatchville. There are some wonderful photos of the farmhouse and its outbuildings, taken in 1916 and 1917, probably by Sarah Bryant Fay, a talented artist and photographer. Apparently the Fays supported a charitable use of the farmhouse for a Roxbury mission sponsored by Emanuel Church in Boston as a "vacation camp."
Thanks to Mary McDonough and Meg Costello for sharing their research and information on "The Moors".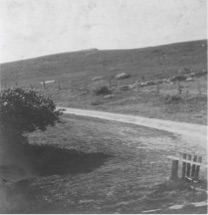 The rocky hillside across from the Fay farmhouse, 1916. These rocks can still be seen above Elm Road. Fay Family Collection, WHHM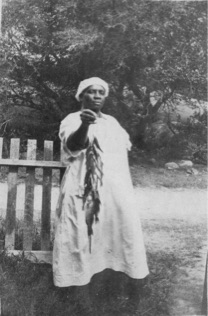 The photo is marked on the back as follows: "At Fay Cottage Falmouth Mass – 1917. Lizzie Our Fay Cottage cook would take her time off & go fishing in Oyster Pond." Fay Family Collection, WHHM.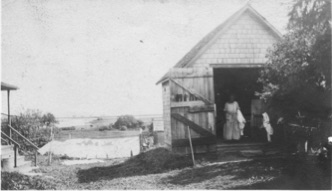 The photo is marked on the back as follows: "At Fay Cottages Falmouth the old laundry was I think made into the real estate office for 'The Moors.' This taken 1916." Fay Family Collection, WHHM.
The Museum Archives are open for research year round on Tuesdays and Thursday from 9:00am to 1:00pm and by appointment. Appointments are encouraged.
To reach the archivist, Colleen Hurter, email whhmarchives@gmail.com.