The Eaton Collection and New Accessions
by Susan F. Witzell
During the summer we were presented with a wonderful collection of photos taken by Elizabeth (Betty) Eaton. Mrs. Eaton passed away in the early summer of 2006. The photos she had taken over many years were collected from her house and donated to us by her friends and neighbors, the Densmore family.
Betty Eaton was the wife of Bill Eaton, the Boatman for Naushon Island from 1961 to 1987. She was a talented amateur photographer, working with a 2 ¼ x 2 ¼ format camera. Her images of the scenes before her were acute and well-composed. She apparently had a darkroom or the ability to have custom 8 x 10 black and white prints made. In addition to the black and white photos, she also took many 2 ¼ x 2 ¼ slides. Betty was very interested in gardening and hybridized daylilies. A dark red lily was registered as 'Naushon'.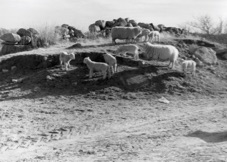 Betty and her husband were very interested in maritime and scenic beauty. They traveled to Nova Scotia, Maine and the Chesapeake Bay area. During their tenure on Naushon, Betty photographed many island scenes: Hadley Harbor in all seasons, including beautiful winter images, nature scenes around the island, the Naushon horses, the blacksmith and numerous views of Naushon sheep. During Bill's time as Boatman, the delivery of the ferry Cormorant resulted in many photos.
The Woods Hole Historical Collection will retain most of the images of Naushon and share a portion of them with the Naushon Archives.
Other recent donations were ephemera and papers from The Calico Players, a theater group who performed at Woods Hole Community Hall in the late 1930s and 1940s. Madeline Peck (Broadbent), who grew up at 14 School Street, was active in this group. The material was donated by her son, David Nailor.
Patricia Morse, who also grew up on School Street, came to Falmouth in September for her 50th high school reunion. Her grandparents, the Look family and the Phillips family, were owners of the Woods Hole Garage (on Railroad Avenue) and The Woods Hole Market, located on Water Street where Pie in the Sky is currently. She donated a number of pieces of correspondence, ephemera, bills and other items from the Market during the 1920s.