Baldwin Coolidge: New England Views (1845-1928), published by the Woods Hole Historical Museum, is the first book of the photographer's work ever produced. It was also the winner of the prestigious First Prize for Design from the American Association of Museums in 1999. With the cooperation of Historic New England, the Museum augmented its own collection of local photographs to give the reader a more extensive look at the variety of subjects this remarkable photographer covered during his career, all while capturing the essence of the period on his glass plate negatives.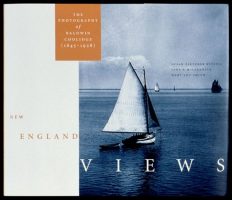 We are proud and happy to include historic scenes of Boston, a coastal village in Maine, a rural town in New Hampshire, Lawrence, Haverhill, Woburn, the North Shore, Nantucket, Martha's Vineyard, the Elizabeth Islands, New Bedford, Mattapoisett, West Falmouth, Quissett, and Woods Hole.
The book consists of 200 duotone photographs, a scholarly introduction to the life and work of Baldwin Coolidge, original essays about the various areas represented, as well as informative captions for all the photographs.
Since this is a book of photography, we used the finest quality paper and digital techniques available to reproduce his plates with the duotone process, which gives a near approximation of the brownish tones of his prints.
The book is available from the Woods Hole Historical Museum. Either call 508 548-7270 or email director@woodsholemuseum.org. The cost is $20 plus shipping and handling ($5), for a total of $25.